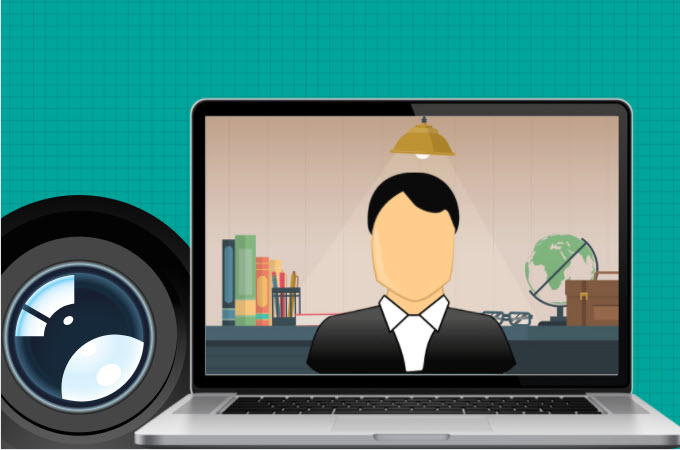 These days the competition in getting a job is getting tougher and tougher comparing these past few years. Recruitment is no longer the same way back then due to the quick emergence and development of technologies. Nowadays, the employer usually asked the applicants to make a video resume than in written form, especially for online teachers. In connection with that, an impressive video resume for online teachers helps them to get more students. Dig deep into this article if you're looking for the best online video resume maker. Besides that, we've listed the things you need to consider to make an attractive video resume.
What is Video Resume/Video CV?
This part of this article will discuss the difference between the content of the video resume and curriculum vitae (CV). In the video resume, it includes information about the applicants' emphasize skills and qualifications for a specific position. Here, you will also see the past work history of the applicants. While on the other hand, curriculum vitae (CV) is more focused on the academic credentials of the applicants. Here, you can also check their attended seminars, awards received, or the organizations they belong to. In addition, making a video resume and CV is more impressive than written form.
Good Tips on Making a Video Resume
Prepare a Script
First and foremost, before creating a resume in the form of a video, you need to write a script. With this, it would help you to organize a sequence on how you will introduce yourself. Memorize or at least be familiar with the script as much as possible to have confidence when you start filming.
Make it Relevant
Second, the content of the video resume should have important information about the specific position you are applying for. Recruitment agencies or the employer wouldn't want to see generic resume videos. It would be best if you have an objective with your video resume to impress the employer easily.
Try to Keep the Video Short
Third, we all know that employers and recruiters are busy people. So you need to find the video CV maker and be creative to produce an eye-catching video resume. Try to add some animations and transitions in every scene to catch the attention of the employer. Meanwhile, the suggested length for the video resume is around 1-2 minutes and 90 seconds is perfect for it.
Make it Professional
The last thing you need to consider in customizing a video resume or CV is you need to make it professional. You need to use high-quality video clips with exact lighting, framing, and editing. Before rendering the video, make sure that the narration can be heard clearly.
3 Best Video Resume Makers
Biteable
Biteable is a video editing program available on the internet that you can rely on how to make video resume. With this tool, you can start creating videos using its offered video templates or start from scratch. Furthermore, this enables you to add text to the video resume with different kinds of font styles, colors, and sizes. It also allows you to enhance the content of the video by adding animations. Besides that, you can also insert royalty-free photos, videos, and background from its media library. However, there is a watermark embedded in the video on its free version.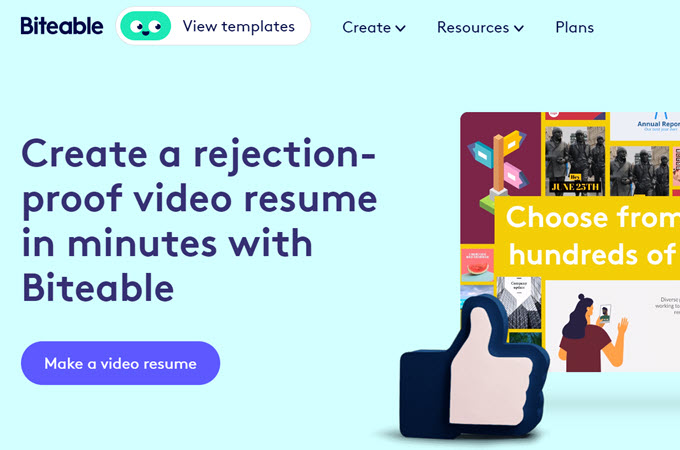 LightMV
LightMV is a powerful online tool that also has a mobile and desktop version for Android, iOS, and Windows computers. One good thing with this tool, it has rich collections of video templates that let you create video instantly. Its simple video editing function can help you on how to make a video cv with an impressive factor. Not to mention, this tool is capable of saving the created videos in Full HD quality. After rendering the video with this tool, you can share the video on different social media platforms. Check the listed awesome video resume templates by this tool.
Tiktok photoslide
Tiktok photoslide is the first template that you can use to transform raw photos into an attractive video resume. With this video, it allows you to upload up to 39 images and include text on the video instantly.
Tips: Click the picture below to watch this amazing video resume template.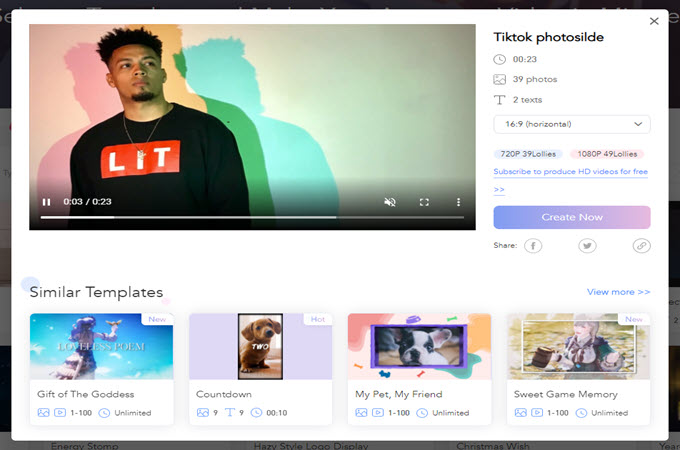 Corner Coffee
Corner Coffee is another template that you can use to customize a video resume. It has straightforward but appealing video transitions in every scene. Aside from that, it allows you to upload unlimited photos and short clips.
Tips: Click the picture below to watch this amazing video resume template.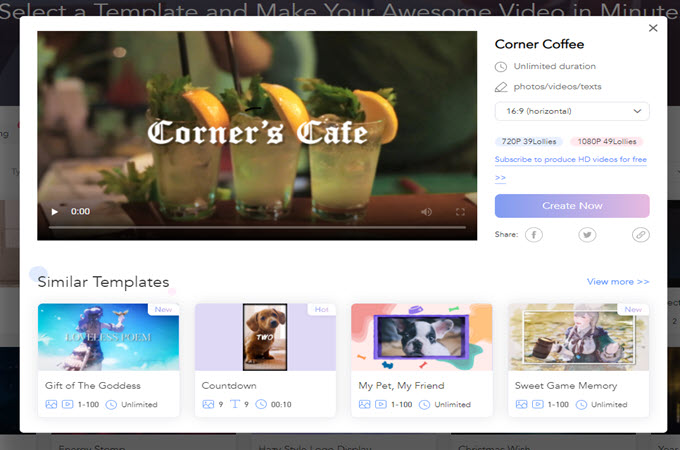 Animaker
Animaker is the last video resume app that you can use to make animated and unique video resumes. This tool has a drag-and-drop feature and pre-made video templates that let first-time users make a video with great ease. Aside from a video resume, this is capable of making videos for different purposes, including ads, intro, outro, 2D, corporate, and more. Moreover, it has extensive collections of elements that you can use to improve the content of your video resume. Lastly, this video editing program has a collaboration feature that enables you to share the project with your colleagues via a link.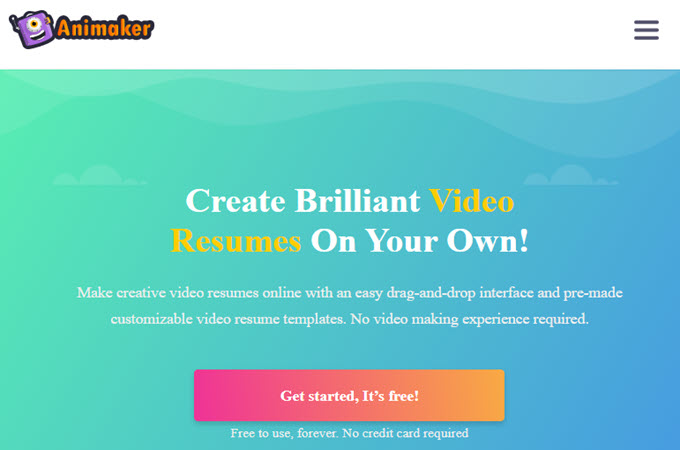 Conclusion
To sum it up, we've introduced the video resume and the difference between resume and curriculum vitae (CV). Also, we've listed the things you need to consider to have an attractive video resume. Besides that, we've also revealed the best video editing programs that offers professionally made video resume template. Despite these tools, LightMV is a highly recommended tool because it allows you to create videos using different platforms. For more suggestions, feel free to comment down below.